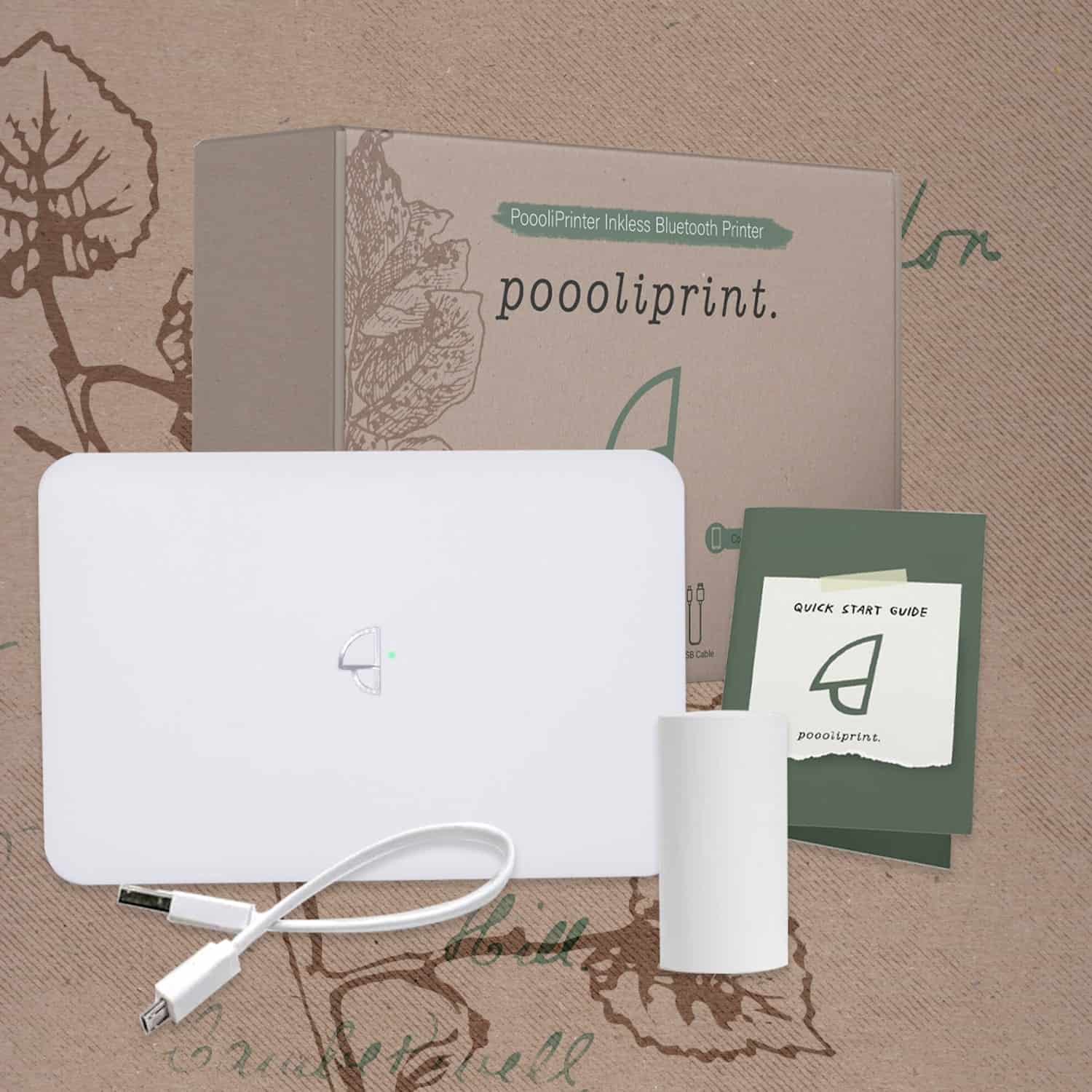 PoooliPrinter® XL Pocket Printer +🌟FREE Paper Roll🌟
Regular price $289.90 $145.95
or 4 interest-free payments of $36.48 with
YOUR PORTABLE INKLESS PRINTER
Adopt the convenience of PoooliPrinter® XL!
Small for your convenience but large enough to print most of your documents and office work, it can also print sticky labels, notes, to-do list & much more! Just connect to your phone or tablet with Bluetooth and start printing. 
☑️ PORTABLE - Work and print on the go thanks to its pocket size of just 5.5*3.6*1.7 inch / 140*93*43.5mm
☑️ WIDE PRINT - Print on paper rolls of up to 4.3 inches / 110mm wide. This is enough to print most of what you need.

☑️ SHIPPING LABELS - Optimized to print shipping labels, this is your small business best-friend!

☑️ INK-LESS - Thanks to its Japenese heating print head technology, ink is not used and no unnecessary costs are added. 

☑️ BLUETOOTH - Simply connect to any smartphone with Bluetooth and open the Poooli app. You're ready to print!
☑️ DURABLE - Printed materials are durable (10-25 years), water resistant, oil proof and scratch-free. 
1. WIDE FORMAT & HIGH DEFINITION
Compared to our world famous PoooliPrinter® L1, PoooliPrinter® XL offers a much wider print width of 110mm while keeping the same printing quality as PoooliPrinter® L2 Instant HD. Print at up to 300 DPI, giving you the resolution of a standard office printer.


2. COMPATIBLE WITH A VARIETY OF PAPER ROLLS
After printing with a 57, 80 or 110mm wide paper roll, simply replace it with one of your choice: colored, sticky, transparent & more... and enjoy up to 24 hours of printing. Plug your mobile printer into any USB port or charger to recharge in no time.
LOOKING FOR POOOLIPRINTER XL PAPER ROLLS? CLICK HERE


ALSO COMPATIBLE WITH 30+ TYPES OF PAPER ROLLS
SHOP NOW OR 👀 WATCH VIDEO:
3. INSTANT PRINTING AT THE TOUCH OF A BUTTON
With it's elegant, simple shape it's compact enough to carry with you, but large enough to print an important document you need to remember, or even a shipping label in seconds. 
4. PRINT ANYTHING YOU WANT FROM THE POOOLI APP
`
With the Poooli app you can edit and print images, pictures, to-do lists, notes & more from any smartphone with a touch of your finger. Imagine now you can instantly print a selfie or simply get organized with notes & to-do lists. Click here to learn more about the main benefits.

☑️ 
30 Day Money Back Guarantee
We're proud to have over 100,000 happy PoooliPrint® customers printing around the world. If you don't have a positive experience, we will do whatever it takes to make sure you are 100% satisfied with your purchase. Terms apply, please refer to our Return/Refund Policy for details.
Click here to read our store & products reviews.
☑️ 1 Year Warranty
PoooliPrinters® are covered by a 1 Year Warranty, if there is an issue we got you covered! 

☑️ Features Summary:
Free app, connects to Bluetooth

24 hours battery life

USB-C port

Print speed: 15mm/s - 0.6 inches/s

Quality: 300dpi

Print width 110mm / 4.3 inches
Pocket size of just 5.5*3.6*1.7 inch / 140*93*43.5mm for a weight of 6 Oz / 460g.
☑️ In the Box:
One PoooliPrinter XL

One FREE white paper roll XL

USB-C recharge cable 

User's manual

Our Love & unlimited customer support🤎
☑️ Free Worldwide Shipping:
Order now and receive it at your home in just 1-3 days if you live in the USA or 5 - 10 days if you live in the UK, Australia, Europe & most of the world. Read our Shipping Policy for more info.

NOTICE TO OUR CUSTOMERS: LIMITED QUANTITIES AVAILABLE! ORDER YOURS NOW WHILE SUPPLY LASTS. 
QUESTIONS?
Visit our FAQ or let us know if you have any questions, or need anything. We're here for you! 🤎
INSTAGRAM